Designed for at-home use
A one-on-one curriculum for boys and mentors
These Cadets @Home kits contain everything a boy needs to work on Cadet materials with a mentor outside of a traditional cadet club. Every kit includes badge work, Bible lessons, craft projects, and other fun stuff!
Cadets @Home Kits
Many parts, all in one place
Kit contents:
Drawstring bag with Cadets logo
@Home badge book for Jr. Cadet, Recruit, Pathfinder, or Builder
@Home Mentor's Guide for Jr. Cadet, Recruit, Pathfinder, or Builder
Annual theme Bible lessons (11)
Bible lesson Mentor's Guide
Project worksheets (7)
Cadets pencil
Annual theme poster, 11"x17"
Annual theme bookmark
One bag/kit needed per cadet.
Cadets @Home Badge Booklets
Work on badges at home
These booklets are designed to be used by cadets who are outside of the usual club and allow boys to work on merit badges with help from a mentor. The included Mentor's Guide helps a mentor work through the badges with the cadet. The Jr. Cadet @Home materials are suitable for boys in grades 1-3. The Recruit, Pathfinder, and Builder @Home materials are suitable for boys in grades 4-6.
Ranks and contents:
Jr. Cadet: Landmarks; My Family Tree, Sculpting, Cadet Code merit badges
Recruit: Landmarks; Occupations, Chivalry, New Life merit badges
Pathfinder: Flag Knowledge; Home Cooking, Reading, Sculpture, Christian Life merit badges
Builder: Citizenship; Weeds & Wildflowers, Money Management, Chemistry, Christian Way merit badges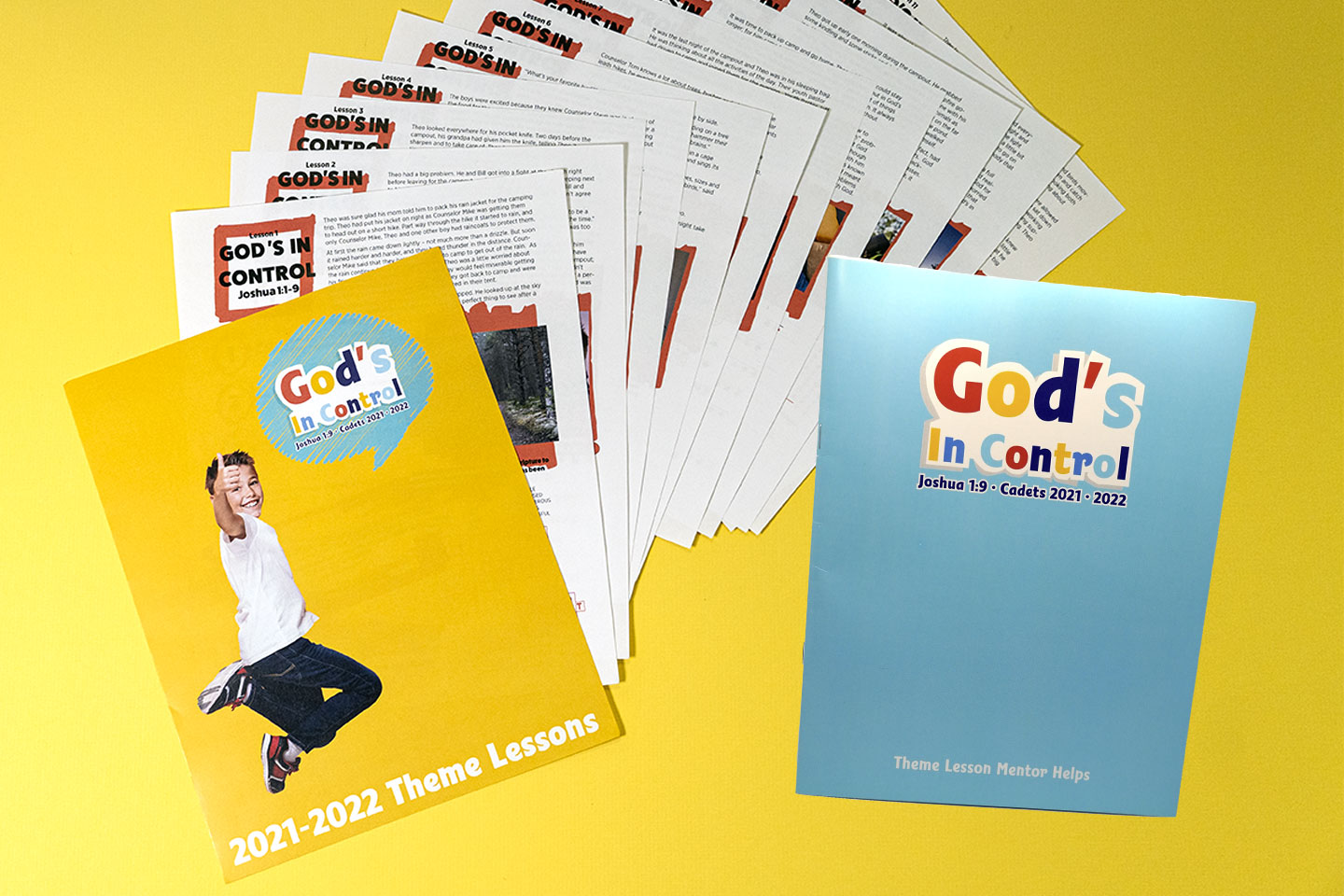 Cadets @Home Bible Lessons
Eleven Themed lessons
The Bible Lessons that come with our Cadet @Home kits are based on our annual theme and are age-appropriate. Don't feel confident leading a Bible lesson? No problem – the Mentor's Guide for these Bible lessons is included to help the mentor work through the Bible lessons with the cadet.
Cadets @Home Projects
Cool Craft Projects
We've picked seven of our most popular craft projects to include in our Cadets @Home kits. Follow the instructions and you'll be able to make lots of fun things to use or give to others.
Cadets @Home Extras
Even more fun stuff
Cadets @Home kits include other fun stuff, too. A pencil is included for filling out badge booklets and Bible lessons. Kits also include a poster and bookmark based on our annual theme (so they'll match the Bible lessons). And of course, the whole kit ships in a reusable, Cadets-branded drawstring bag to keep everything together.