The recent pandemic and related social distancing concerns have made it impossible for many clubs to meet as they usually would. Head Counselor Jim Szczodrowski of Orchard Park Wesleyan Cadets Club #2047 has gone above and beyond in finding new ways to use technology to reach boys during a time when they are unable to meet physically.
Jim acted early in response to social distancing measures. When the social distancing protocols were enacted in his area, the Cadet season still had three full months to go, and he wanted to maintain the continuity of their weekly meetings. While continuity was key, the more important issue was maintaining contact with the boys. According to Jim, "95% of our boys are from outside the church and 75% of those boys do not attend church regularly anywhere. I wanted to keep the contact going."
The "in real life" club meetings at Orchard Park Wesleyan consist of game time, small group time, and story (devotions/Bible study) time. Jim wanted to maintain those same three main portions of the meeting online but struggled to find the tools and technology that would allow all of them. He looked at Zoom, Skype, YouTube, Facebook, and Twitch. "All of them offered a place for the devotion portion of the meeting," says Jim, "but the games and small group would be limited or not what we wanted to do."
After looking more closely at Twitch, Jim found an extension that incorporates a "trivia quiz" game into one's channel. These timed quizzes are easily customized, so Jim could include features such as putting up an image of a badge to have contestants compete to identify them first. The club does two quizzes per meeting – one toward the beginning of the meeting and one toward the end – and offers a Door Dash meal as a prize (with parental consent). 
Twitch also provides real-time streaming as well as broadcasting pre-recorded footage. Meetings take place on the usual days and times, adding to the continuity between the "in real life" and "virtual" meetings. The meeting is "hosted" by a couple of junior counselors who help facilitate the landmarks and the quizzes, while the small group and story portions of the meeting are pre-recorded and broadcast when appropriate. During the meeting, there is a chat room for viewers to comment or ask questions. There is an opportunity for connection once the meeting starts to wrap-up – the boys can call (with parents permission) and speak with some junior counselors and counselors "on the air."
While the technological aspects may seem challenging, Twitch makes it very easy to get started and can walk you through the steps to live streaming your own meeting. "We are fortunate that our Cadet group has a little equipment," says Jim, "but you really don't need much more than a net connection and a web camera to make this work."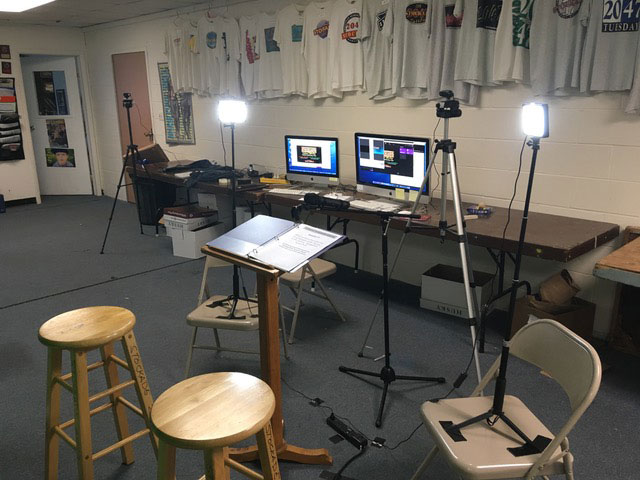 Congratulations to Orchard Park Wesleyan for rising to the challenges posed by the pandemic, and finding ways to help boys become more Christlike in all areas of life using new tools and technologies. As Jim says, "It does take time to do this but it offers us the opportunity to continue our ministry to the boys. It has been well worth the effort."