Bible lessons are a fundamental aspect of the Cadet ministry, and with this year's theme of "Dive into the Word," we thought it would be especially appropriate to explore the many options for Bible lessons we offer. Here is a brief overview. 
Discoverer, Explorer, and Adventurer Lessons
Each Junior Cadets rank has its own set of 25 Bible lessons – Discoverer for first-graders, Explorer for second-graders, and Adventurer for third-graders. If you have a mixed age group of Junior Cadets, consider the reading level of the boys when picking your lessons. The Discoverer lessons are relatively simple and may be boring for older boys or better readers. If you have enough older boys (or better readers), you may want to use the Explorer or Adventurer lessons and have older boys help younger boys with the readings.
For Recruit • Pathfinder • Builder 
Cadet Quest Magazine
First of all, don't forget the Cadet Quest magazine as a source for Bible lessons. Each issue contains two sets of lessons. The "A Lessons" focus on one book of the Bible over the course of the year (this year we look at Ephesians), while the "B Lessons" focus on the theme for that issue of Quest (including this year's "Dive into the Word" theme). This could be an especially good option for your cadets if your club is not meeting in person, as the Quest provides not only Bible lessons, but also faith-based stories and readings, craft activities and more that cadets can do at home.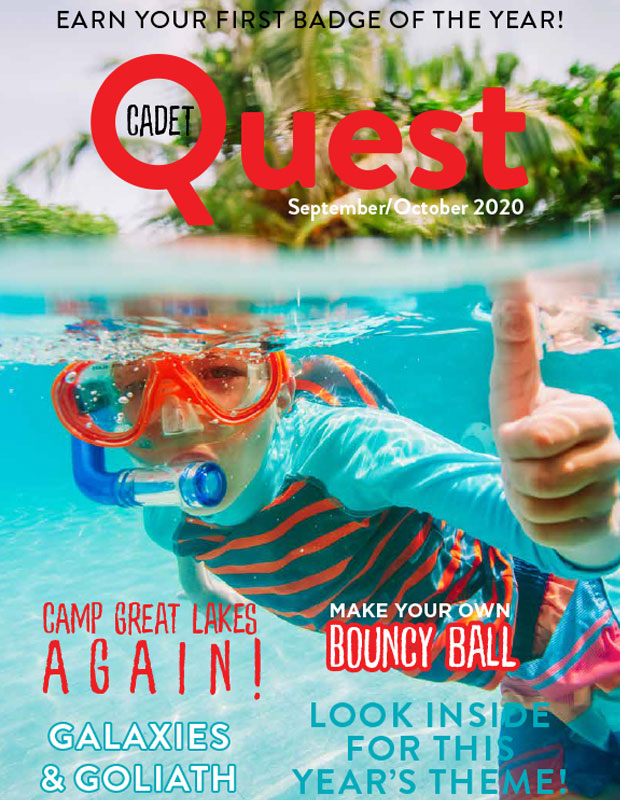 Theme Lesson Set
A new addition to our Bible lesson options this year, this is a set of the "B Lessons" pulled from the Cadet Quest magazine and sold separately. These eleven lessons focus on the "Dive into the Word" theme. If the Cadet Quest is prohibitively expensive for your club, this could be a great alternative way to integrate the annual theme throughout the Cadet season.
Discovering God's Word
These Bible lessons are a great fit with this year's theme as they dive more deeply into the scriptures while also guiding cadets through earning six badges from "Exploring God's Word." This set includes 33 lessons – enough to split into two Cadet seasons depending on how often your club meets. These lessons are particularly well-suited for clubs with boys that have little Bible background or are new to Cadets in general as they help the boys earn badges while they do their lessons.
Landmark Lessons
The Landmark Lessons is a great set of 23 Bible lessons and a favorite of many. Landmark Lessons are a great fit for newer clubs or clubs with lots of new boys. The lessons take a closer look at the Cadet Landmarks, what they mean, and why they matter.
Lessons from the Bible
If your club has a lot of boys with limited knowledge of the Bible, this 20-lesson set could be a good option for you. These materials focus on some of the major stories and events in the Bible and what they teach us.
Lessons for Daily Life
This set of 23 Bible lessons is appropriate for older boys and tackles many of the issues with which these boys struggle. By handling real-life issues like friends, peer pressure, girls, and more, this set of lessons encourages boys to live their faith every day.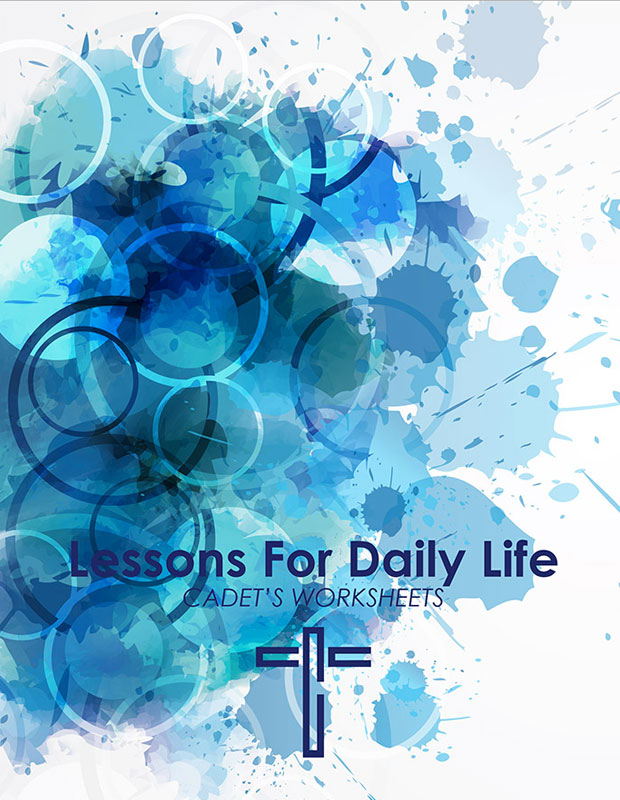 Reminder
All Calvinist Cadet Corps materials are copyrighted. Please be sure to purchase a set of lessons for each boy in your club, and a counselor edition for each counselor that will be using the lessons.
We hope this overview has given you some ideas for which Bible lessons might be most appropriate and effective for the boys in your club. If you have further questions or comments, please let us know at info@calvinistcadets.org.