The Cadet International Camporee is coming soon! Are you ready?
It will be a fantastically fun week of camping and outdoor adventures, sightseeing and service projects, and meeting and making friends with lots of other Cadets and counselors. 
The Camporee is July 22-29 near Rudyard, Michigan, but there's plenty to do before then. Almost everything you need to know is covered online at camporee.calvinistcadets.org, but we wanted to highlight a few important items.
Are you certified? The Camporee Certification Course prepares Cadets and counselors for an international camporee and they must pass it in order to attend. 
One handbook is needed for each Cadet or counselor taking the Camporee Certification Course.
The certificate found in this handbook must be completed, signed, and sent in when registering for an international camporee.
You can't go to Camporee if you don't register. Fortunately, you've got a couple of options when it comes to registration. Cadet and counselors may have already received registration forms via the Cadet Quest or the Clarion newsletter. Cadets, counselors, and approved staff members can register online – https://camporee.calvinistcadets.org/registration/. Cadets and counselors can also optionally download and print registration forms from this page.
— ONLINE REGISTRATION TIP — 
If you register online, you will still need signatures from other people. But, sometimes the people you need aren't around. That's why we set up the form so you can save it and come back to it if you need to. We recommend filling out everything except the signatures and saving the form using the link at the bottom of the form. Then you can re-open the form on your tablet or smartphone when you're at church or a club meeting so you can get the signatures you need. Alternately, you can just make a mark in the signature fields, and print out the signatures form that you need and mail them to the Corps Office.
The registration deadline is APRIL 1, 2020! Please have your registration form completed and sent to the Corps Office by then. Failure to register by the deadline may forfeit your chance to attend Camporee!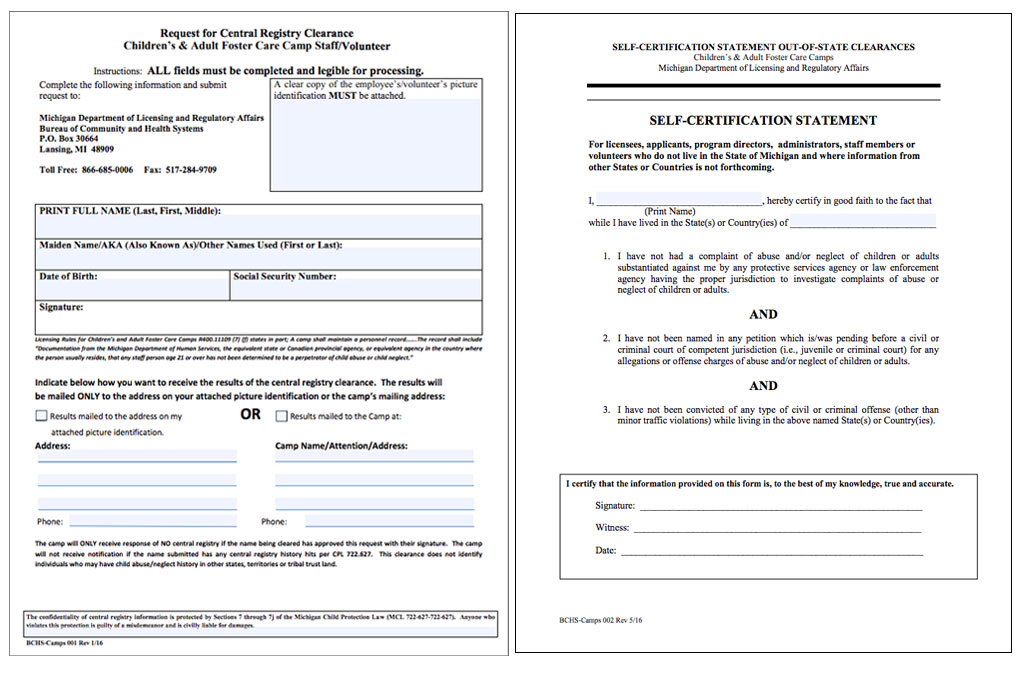 — POLICE BACKGROUND CHECK TIP — 
If you need a police background check performed, inquire with your local police department. You should be able to request that the police conduct a criminal records search and provide you with a document reflecting the results.
Payment 
To pay your registration fees online, follow the appropriate link from the registration page – https://camporee.calvinistcadets.org/registration/ – be sure to include your name so we can match your payment to your registration.
If you plan on paying by check or money order, please make it payable to "Cadet Camporee 2020" and send it to the Corps Office at the address below.
Fees increase after April 1, 2020! Please pay ASAP to avoid increased costs or missing out on Camporee!
— FINANCIAL HELP TIP —
Cornel Rylaarsdam Memorial Fund – Some families would like to send their son to an international camporee, but they simply don't have the financial resources to make it work. The CRMF is available to help pay part or all of the registration fees for individuals who need help. Learn more on the camporee.calvinistcadets.org website, where you can download an application or donate to the fund. The deadline to apply for the CRMF is March 1, 2020.
Air Travel 
Are you planning to fly to camporee? We recommend flying into Gerald R. Ford International Airport in Grand Rapids, Michigan (GRR). You should plan to arrive on July 21, 2020. You will be given a place to stay that night and bused to Camporee the morning of July 22. On the way back, you will again be given a place to stay overnight and should plan to fly out of Gerald R. Ford International Airport on July 30, 2020.
Family Camp / Family Day 
There is a (relatively) nearby campground area where families are welcome to camp during the time of the Camporee. We've made special arrangements with Mill Creek Campground. They have reserved sites and cabins for families and friends of Cadets, so be sure to mention that you're with CADET INTERNATIONAL when you make your reservation.
For more information or to make a reservation, visit https://www.campmackinaw.com/
Sunday, July 26, the Camporee is open to visits by family and friends of Cadets and counselors. Transportation will be available from family camping to the camporee site for Sunday worship service and lunch.
Equipment
A list of required, optional, and prohibited equipment will be mailed to each registrant in June. These lists will also be available on the Camporee website.
ARE YOU READY?
Most importantly, are you ready to have a great time praising God in his creation with a lot of new friends?
If you have any comments or questions, please let us know by sending an email to info@calvinistcadets.org or calling 616-241- 5616, ext. 4.