It's Friday night, the Niagara IceDogs are taking on the Sudbury Wolves at the Meridian Center in St. Catharines, Ontario and the building is rocking. The event is completely sold out with a capacity crowd of 5,300 and more than 1,100 of them are there to support Cadets (and the IceDogs too). They are supporting Cadets by buying a ticket to Cadet Night at the Niagara IceDogs.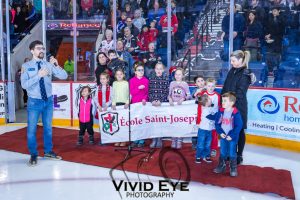 The Niagara IceDogs are a hockey team located in St. Catharines, Ontario that plays in the Ontario Hockey League. The Ontario Hockey League is a premier junior league in which many of hockey's top prospects and future NHL stars develop their skills. The fundraiser combines two things that many young boys in the Niagara area love – Cadets and hockey!
For the past 5 years, Berean East Council has partnered with the Niagara IceDogs to hold its annual 'Cadet Night at the Niagara IceDogs' fundraiser. The fundraiser was successful from its first year selling 792 tickets and raising over $5,500 in 2015 but 2019 was a record breaker. This year the Cadets sold over 1,100 tickets and raised more than $7,700. In total, this event has raised more than $24,000 for Cadeting in the Niagara Region over the past 5 years. What a blessing!
The event is also a great way to promote Cadets in our community. We encourage our Cadets and Counselors to wear their uniforms to the game. This makes it obvious just how many boys are 'Living for Jesus' in the Niagara area. This year the Niagara IceDogs even invited the Cadets to recite their pledge to the national flag of Canada prior to the game with Berean East Congressman, Adam Meijard, leading from the ice.
The fundraiser was initiated and is coordinated each year by one of our Head Counselors and IceDogs season ticket holder Fred Vrugteveen. Fred negotiated a group rate with the Niagara IceDogs, which means that by selling our tickets at the reasonable rate of $20 we raise $7 with every ticket sold for Cadets. The face value of most tickets is between $20 and $25, so everyone wins.
Fred's advice for getting a similar fundraiser started in your area is to find a sports club that is well received by the Cadet community and is also interested in having a group attend the game at a discount. Fred deals with the group ticket sales manager and says this is a super easy way to fundraise. You can contact Fred at fred@niagarapallet.ca or 905-933-8189 if you would like some advice on starting a similar type of fundraiser with a team in your area.
– Darryl Langendoen, Berean East Council Reporter
What special events is your club participating in? Write up a report, attach some pictures, and send the story to us! We might just post it on the Corps website or put it in the Cadet Quest magazine…